Ladies, bloggers, friends, I need some help!
I am on the hunt for some fashionable sneakers, and I'm hoping you all will have some awesome suggestions!
I currently own a pair of Diesel Baffin Grape Red Women's Trainers, pictured here: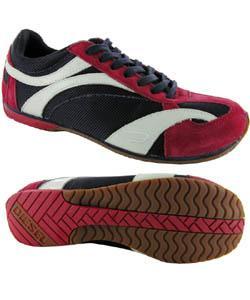 What I love about these tennies is that they add some color and flair to an otherwise basic jeans-and-tshirt outfit.
Now I'm looking for another pair or two to do the same thing, only I want different colors. (So that means no more red, since I've got that covered!)
Here are my guidelines:
(1) No red
(2) Must be under $100 (ideally under $75)
(3) Must make the foot look slim when viewed from above or any other angle (yes, I think my feet look fat. let's move on...)
(4) Must have some color (I'm thinking about blues and greens, especially)
(5) But must NOT be crazy with the color
(6) I like sneakers that aren't just one solid color. (Notice that my Diesels have the white stripe along the sides and mix the red and blue in the same shoe.)
I realize this is a long list of guidelines and that I'm super-picky. But see, that's why I need your help!
If you come across something that you think first the bill, please either drop me an email or leave me a comment with the link.
Thanks dolls!
PS: These aren't on my list of shoes to be considered, but seriously, how cute are these?
Fill in the blank!