Last night, while reading Shape magazine (which for some reason gets delivered to my house, despite the fact the I neither ordered it nor pay for it), I was pleasantly surprised to find some decent fashion suggestions. I wouldn't have expected to see style articles in a publication devoted to fitness (other than fitness fashion, that is) but really, I guess it makes sense, since the magazine really is about helping women be healthy AND feel good about themselves -- as we all know, what you wear really does affect how you feel!
There was an interesting double-page layout entitled "10 Classics Every Woman Should Own." Being that I am really not a "classic" dresser and tend to buck both trends and authority (or anyone who tells me what I "should" do), I was interested to see how many, if any of these items I own.
(1) The quilted, chain-strap purse.
Don't own it, never will. Nothing against Chanel, but this just feels very 1980's to me.
(2) The collarless jacket.
Again, tres Chanel. And of course, very Jackie O. I have no issues with this look, but it's just not me. There's something about it that seems... matronly isn't the right word, but just for someone, well, older than me. It's beautiful, but I wou;dn't feel like myself in it.
(3) The statement necklace.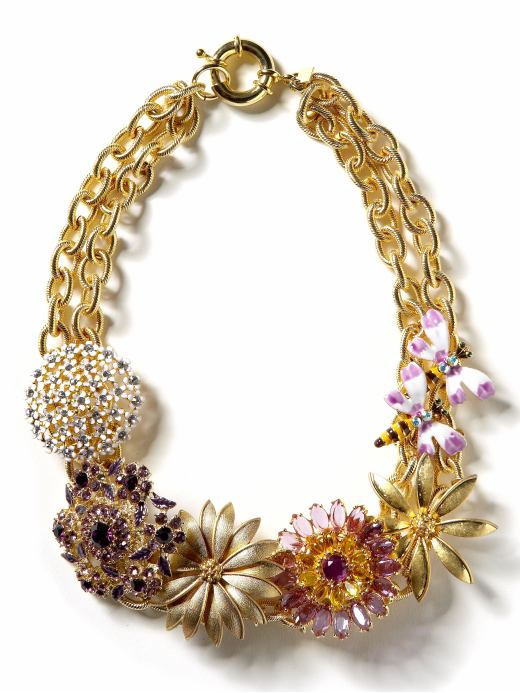 This is something that, not only do I own, but I really think every woman should have. The beauty is that you can pick whichever type of statement matches your own style!
(4) The ruched shift.
I do own a shift dress or two, but I'm not sure I would say they are ruched. While ruching can hide a multitude of imperfections, frankly, not everyone needs it. I do however think that a shift dress is a timeless piece that can be styled in so many different ways. If you have a funkier personality, you can pick a bright color or pair it with spikes, studs, or chains. If you have a more classic personality, you can wear it with pears and the collarless jacket shown earlier. Very versatile.
(5) Strappy metallic heels.
I don't think I actually own a pair of these anymore, unless you count a wedge heel, and I'm not sure that's the intent here. While I would love to have a pair in my shoe wardrobe, I just don't find them to be a necessity nearly so much as, say, a nice nude pump, a great pair of boots, or even a good workout shoe.
(6) The perfect fitting jeans.
You need these, hands-down. Moreover, you need them in several styles: Casual, trouser, skinnies... whichever styles you like, but seriously, more than one. I am still on my quest for the perfect jeans, but I have a few pairs that I really like.
(7) The embellished tank.
Whether you pay top dollar for a tank with diamonds on the collar or DIY a cheapie with some spare fabric rosettes, embellished tanks are the easiest way to literally throw on something comfy with zero effort and still look chic -- even jewelry isn't required! I have a few embellished tanks (and tops) and am trying to add more to my wardrobe.
(8) The pencil skirt.
While pencil skirts have really made a resurgence in the last few years, they really are a classic piece. It might take some time, effort, and a good tailor to find the *right* pencil skirt for you, but this shape can work for any figure and any size. I have a few, and when I wear them, I always feel very va-va-va-VOOM.
(9) Textured flats.
I love that over the last several years, flats have been a huge trend. We all still love our heels, but sometimes, you just need to give your feet a rest. We still want to be stylish, though! Enter the textured flat. Some flats have the potential to look a but little-girlish, but throw in some tweed or snakeskin, and you've still got a shoe with a major statement. I own several pairs of flats with texture, pattern, and embellishment.
(10) The trench coat.
For most of us, when we think of trench coats, we envision the picture above. Khaki, collar, tie belt. It's classic, but to me, BO-RING. Not to mention that I have yet to find a classic trench that actually works with my body shape.
Thankfully, the trench has been redesigned lately.
Try one with a fun pop of color:
Or one with an asymmetrical hemline to change it up a bit:
While the "classic" trench isn't for me, I could totally see myself wearing something with a modern twist to it.
What do YOU think about this list of 10 classics every woman should own?